News
A Guide to Exchange-Traded Australian Government Bonds
Page 7 of 10
Pricing and Valuation
Australian Government Bonds consist of a series of future coupon payments and the repayment of the principal at maturity. Therefore, the fair price is the sum of the present values of all future cash flows, including coupon payments and the redemption payment. Any formula used to put a value on these payments must rest on certain assumptions. To standardise these assumptions, the Reserve Bank of Australia introduced standard pricing conventions for all Commonwealth Government Securities.
As the price of a bond is the present value of its expected cash flows, if investors apply different interest-rate forecasts, they will arrive at different values for a given bond. Investors can therefore judge whether particular bonds appear "cheap" or "expensive".
The yield to maturity, which represents the annual rate of return of the security, is derived by solving an equation with the purchase price on one side and the present (discounted) value of the series of payments on the other.
A yield could be expressed for any defined period, but it is convenient to quote yearly rates. With bonds, it is conventional in Australia that these annual rates are obtained by doubling an effective or true half-yearly rate. That is, the usual calculations involve rates of return earned over a half year. The yearly rate is simply double this half-yearly rate and should properly be regarded as a nominal rate, as it ignores the compounding (or reinvestment effect) of the half-yearly rate over the year. The use of effective half-yearly rates accords with the fact that, in Australia, interest is normally paid half-yearly. Some correction may be needed for comparison of yields, such as with those overseas, where interest periods are different from this.
Importantly, there is no single right answer to yield calculations, hence the formula for calculating the price per A$100 of an Australian Commonwealth Treasury Bond as supplied by the Reserve Bank of Australia:
Exchange-Traded Treasury Bonds (eTBs)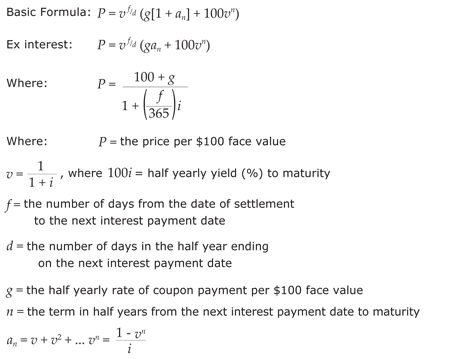 Exchange-Traded Treasury Indexed Bonds (eTIBs)