News
A Guide to Exchange-Traded Australian Government Bonds
Page 3 of 10
Understanding Market Pricing – Dirty versus Clean Price
There are 17 eTBs and five eTIBs listed on the ASX. Each of these securities has a similar name, but their market values are very different and hence investors should be careful not confuse one security with another.
The price of each security is driven by its yield to maturity, which in turn is driven by the shape of the yield curve and expectation of inflation.
When you purchase an eTB (or eTIB) on the exchange, the price you pay is referred to as the "dirty price," which includes accrued interest. To calculate the correct yield, we must first subtract the accrued interest and thereby remove unnecessary volatility from the market price. As an example, let's take a TB which settles on 15 December paying a 6.25% coupon semi-annually on 15 April and October. At the settlement date the bond has accrued interest for 61 days, which equates to:
---
$100 (notional) x 0.1671*  x 6.25% (Coupon) = $1.04
Hence:
Clean Price = Dirty Price - $1.04
---
* 61 days since last coupon payment as % of 365 days
Figure 1: Clean and Dirty Price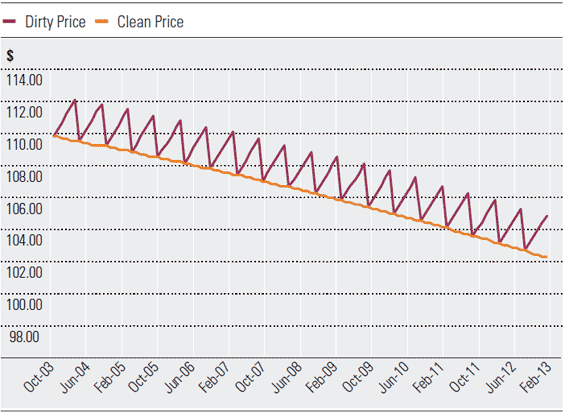 Source: Morningstar analysts
Figure 1 shows that the clean price removes unnecessary volatility from the market (or dirty) price, so investors can better manage their expected future income by looking at the clean price of a security.